MOTA METCON CUSTOM SAVAGE BOOTS!
Mota Skates new flagship boot model – SAVAGE disrupts everything you thought you knew about Price/Quality perception! Mota designed, developed and manufactured Savage to be one of the most elite boots on the market today and for years to come – AND at a significantly lower pricepoint than other performance boots in this category! Mota was already one of the top carbon/composite boot companies in the world, and realized through the development of hand layup (carbon, Kevlar, fiberglass) that nylon quad shells, with proper design could outperform carbon boots! The Savage utilizes a nylon composite shell which encapsulates the foot, VERY similar and lightweight like Carbon, BUT MORE responsive, MORE comfortable, WITH Flex-Fit counters – adjustable heel counter adjusts to narrow or wide feet…Most importantly they perform better than carbon for most skaters AND AT LESS COST!

MOTA METCON SAVAGE BOOT FEATURES: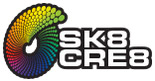 SK8-CRE8: CREATE YOUR OWN SK8! Choose from tons of available colour options, or add your own custom graphics to create a custom MOTA skate in your own unique style! (Custom orders ship in approx. 6 weeks)
CLICK HERE FOR THE SK8CRE8 MASTER MATERIAL COLOUR SWATCHES IN HIGHER RESOLUTION PDF
PERSONAL GRAPHIC OPTION:
PLEASE INDICATE "MY OWN GRAPHIC" IN ANY OF THE CUSTOM AREAS THAT YOU WANT TO CUSTOMIZE. YOU WILL NEED TO SUPPLY A VECTOR FILE OF YOUR OWN GRAPHIC (AI OR EPS). YOUR ORDER WILL NOT BE PROCESSED UNTIL WE HAVE RECEIVED AND APPROVED THE FILE. OPTION F, THE LACE COVER CANNOT BE PRINTED. IF YOU WANT MAXIMUM EXPOSURE OF YOUR PERSONAL GRAPHIC WE SUGGEST YOU HAVE THE BOOT MADE WITHOUT A LACE COVER. PLEASE CONTACT US WITH ANY QUESTIONS.
•• SHOP WITH CONFIDENCE, ROLLERSKATIN.CA IS A MOTA FACTORY DIRECT AUTHORIZED DEALER – YOU PAY THE SAME AS FROM MOTA U.S.A., BUT PAY IN CANADIAN DOLLARS, AND SAVE ALL THE HIGHER COSTS OF INTERNATIONAL SHIPPING, BROKERAGE AND DUTIES!!