INSTOCK! CRAZY Apollo Plates

CRAZY Apollo Plates Built Aussie Tough – Lightweight and Strong in 20 degree action & Great Colours!
CRAZY Apollo Plates are Built Aussie TOUGH – and come in Great Colours!
The CRAZY Apollo plate is an exceptional design which utilizes the very best technologies that are available to create 'excellence' in its performance. The Apollo is designed and formed of an ultra lightweight rigid fiberglass based resin composite which provides a great looking plate which is unsurpased in strength to weight ratio. This ultra STRONG pre-professional plate features a machined aluminum toe stop insert (American SAE thread) formed directly and securely into the plate and utilizes an allen screw adjustable toe stop (not the typical jam nut found on most plates in this price range) and professional Delrin pivot pin inserts.

Featuring:
- ULTRA Lightweight unsurpassed in Strength to Weight ratio
- Machined Aluminum Toe Stop insert utilizing an Allen Screw Adjustable Toe Stop
- Professional Delrin Pivot Pin Inserts
- Pro Aluminum Cusion Retainers
- 20 degree action – Best balance of both worlds between quick 10 degree and agressive 45 degree
- Stainless Steel King Pin made specifically to be a King pin (not just a standard bolt) that utilizes a special Locking Nut to secure it to the Plate and increase the Strength to stand up to the most rigorous usage
- Aluminum Truck imbedded with a highly precision 8mm Axle and a hardened steel Pivot Pin
- Comes complete with one (1) set of Highly Reactive, Fast Snap-Back, Black Rubber Cushions
- EXTRAS Include: Arrow Toestops, Skate Tools, Mounting Hardware, wheel nuts
- (all Threads are American or SAE, Not Metric)

*Manufacturer's Recommended Plate Sizes:
Plate Size
Fits Boot Sizes*
(based on Euro size - see conversion below)
WheelBase mm
(Centre Axle to Axle)
WheelBase inches
(Centre Axle to Axle)
205mm
32-33-34
110mm
4.3"
225mm
35-35-37
130mm
5.1"
245mm
38-39-40
150mm
5.9"
265mm
41-42-43
172mm
6.7"
285mm
44-45-46-47
190mm
7.5"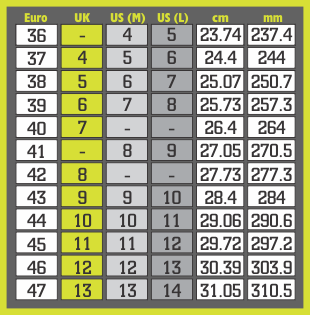 There are yet no reviews for this product.
Please log in to write a review. Log in